Square Underground Basketball Rack Installation Instructions
Installation instructions for buried basketball stand:
1. Digging requirements: length 70cm * width 70cm * depth 80cm; after the basketball rack is installed, the concrete is filled.
2. The edge of the basketball stand is 60cm away from the end line of the basketball court.
3. The three points of the backboard, basketball rack and hoop are fixed with four M12 * 60 screws. The installation of the fulcrum of the tempered glass backboard must ensure that the backboard is evenly stressed, so as not to cause the backboard to break due to uneven force.
4. a. After the basketball post is installed, wait for the concrete to reach the most solid state (about 4 days) before installing the backboard.
B. You can also install the backboard and hoop before burying the ball rack.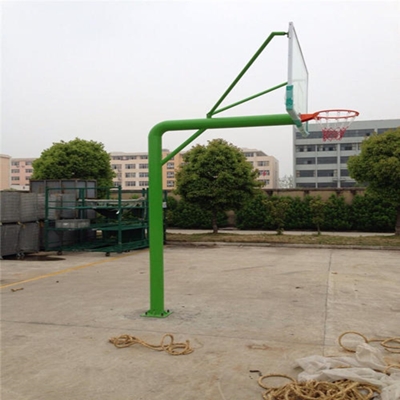 Notes for installation of buried basketball stand:
1. You must find suitable ropes or the like to fix the basketball stand column or a suitable support to fix the basketball stand column, so as to avoid unsuitable installation angle due to unbalanced ball stand column.
2. Keep the balance of the backboard during installation to prevent the backboard from breaking due to unbalance.
Cangzhou Haoran Sports Equipment Co., Ltd., a professional fitness equipment manufacturer, primary and secondary school sports equipment, primary and secondary school compliance equipment, primary and secondary school education thinning equipment, campus sports equipment, square fitness path equipment, competitive sports equipment, indoor and outdoor table tennis tables, basketball racks , Music equipment, art equipment, sanitary equipment, labor technology equipment; professional production team, to create more professional products for you.